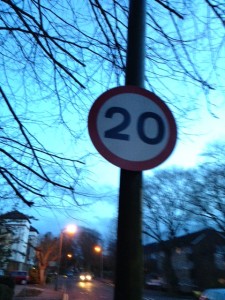 Since we were elected as Councillors for Sutton South Ward we have been concerned about speeding in the Ward. Following the speeding survey conducted in 2011 new traffic islands in Cavendish Road have had an impact on the speed of vehicles using the road. The new zebra crossing with the re-distribution of parking bays along the road – so there is more parking along the road, which generally does slow the speed of traffic – in Cedar Road (between Brighton Road and Langley Park Road) has had some impact on speeds there.
We have also sought to deal with the specific problem of the speed of vehicles approaching the right turn from The Ridgway into Chalgrove Road with better signage on the road and lamp-posts as your approach the bend.
A longer term proposal now under consideration concerns the area of the Ward west of Brighton Road. If fully implemented this would introduce a 20 mile per hour limit in the area east of Overton Road (including Overton Road) as far as the Sutton to Belmont railway line, so including these parts of Worcester Road, Grange Road, Camborne Road and Stanley Road. There would be signage to indicate the speed limit and some raised junctions, and road humps, where roads crossed. This follows a speeding survey indicating some vehicles travel too fast along these roads. There would, of course, be extensive consultation with residents before such a proposal was implemented and, given current funding restrictions and other priorities, action to consult on this proposal – which is a proposal for Transport for London funding – is not likely in the near future.
We would welcome any reactions, particularly from residents who live in the area.
We have also floated, in the same list of bids to Transport for London, consultation of residents on the inclusion of Christchurch Park in the Sutton South 20mph speed limit area.