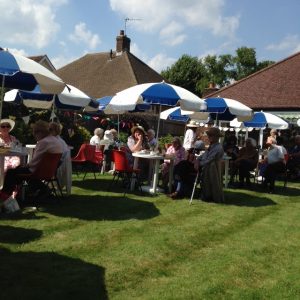 On 20 July we attended the Sutton South Hello annual garden party, held in the garden of Nancy, in Chalgrove Road. About 50 residents attended. There was good weather and music, and a good time was had by all.
Sutton South Hello, a social club for the elderly and those seeking friendship, is the result of collaboration between local Councillors, associations, residents, churches, our Sutton South Safer Neighbourhood police team and voluntary organisations like Age UK Sutton and SKILL (Sutton Centre for Independent Living). Heather Honour, former Liberal Democrat Councillor, chairs the Board and has worked hard to involve all aspects of the community in the project. Richard is a trustee of Hello, sits on the committee and was amongst those who helped found it.
It was launched at Christchurch, in Christchurch Park, on 9 May 2012 by the then Care Minister, Liberal Democrat MP Norman Lamb, and was the pilot for similar initiatives elsewhere in the Borough.