HERE ARE SOME OF THE THINGS I HAVE BEEN DOING IN THE MOST RECENT PAST AS YOUR COUNCILLOR. I REGARD THIS BLOG AS A WAY OF REPORTING BACK.
I am now into my fourteenth year as a local Councillor – where do the years go? I was first elected in 2010, having contested Sutton South Ward unsuccessfully in 2006. I was re-elected in 2014 and then again in 2018 and 2022. I take some pride in this. The fact that I lost in 2006 shows defeat is possible. Having an election every four years, if you are the sitting Ward Councillor, is like having a test where your residents can either say you are doing a good job or throw you out. So far I have passed the test each time.
I spend a significant proportion of every day dealing with some aspect of my responsibilities as a Councillor, in particular local casework. My principal contribution to Sutton's civic administration, now, is that I chair the Planning Committee.
This is my latest responsibility. Over my years as a Councillor I have had a succession of jobs. For the two years to May 2016 I was Chair of the Planning Committee and lead member on human resources – which carried with it chairing the Council and Employees' Joint Committee and the health and safety committee. I also sat on the important Strategy and Resources Committee. On 23 May 2016 I was elected Mayor and gave up these responsibilities to concentrate on Mayoral duties. I stood down as Mayor on 22 May 2017, a date etched on my memory as the following day my eldest daughter, Jane, was admitted to St Christopher's hospice in Sydenham where she died shortly afterwards of a brain tumour.
Following my re-election in May 2018 I took up the post of Chair of the Audit and Governance Committee, a new committee formed by the merger of the audit committee and the standards committee. I was yet again appointed Chair of the Council and Employees Joint Committee and the Health and Safety committee. In May 2019 I stood down as Chair of the Audit and Governance Committee. I continued to chair the Council and Employees Joint Committee and represent the Council on the Greater London Employment Forum, which discusses employment matters in London with recognised trade unions. I was again appointed to the Planning Committee, which I used to chair, and the Housing, Economy and Business Committee, of which I was once vice-chair. After the election in 2022 I again took up the role as Chair of the Planning Committee, retaining my duties as chair of the Council and Employees Joint Committee (which has now absorbed the duties of the separate health and safety committee) and leader of the Liberal Democrat delegation to the Greater London Employment Forum.
In May 2023 there were further changes in committee membership and I am now, in addition to being Chair of Planning Committee, a member of the Licensing Committee and a member of the Housing, Economy and Business Committee. This takes important decisions on business regeneration and on housing policy.
Below are some highlights of my work, mixed in with a bit of personal information. But do have a look at the page "Who are we?" for some biographical information on who I am and what I stand for.
November 2023. The month began with Planning Committee. Just two planning applications to consider, both in Wallington. Sensible decisions were reached but I was disappointed at the behaviour of a Conservative member and had to remind him that the committee treats those who come to speak to us on these applications with courtesy. On the 3rd I attended the tea for "retired folk" organised my local residents' association – the Highfield Residents' Association. Although I am 77 years old, am I really "retired" ? I am pretty busy, as readers of this blog will realise. On the 4th Gloria and I went to watch the firework display in Ruskin Park, Carshalton. It was very good. The following day I played cornet for the Crystal Palace Brass Band at a street market in Norwood next to South Norwood cemetery, combining it with a visit to the grave of my daughter Jane, who died of a brain tumour in 2017, in the cemetery. This is her tombstone.
On the 9th I travelled to Reading to have a medical examination by the UK Biobank. This is a research facility. The results of their medical examination go into their research data base. I get no feedback on the results unless I have a serious medical problem that is detected in which case they tell my doctor – not me. On the 12th I played trumpet as part of the Phoenix Concert Band at the Remembrance Day event in Belmont. This was a good event. On the 21st I attended the AGM of Highfield Lawns Ltd., the only company of which I am a Director. The aim of the company is to ensure the open space it owns opposite my house remains a tennis club. On the 28th. I attended a meeting of the Housing, Economy and Building Committee where the sobering news was that there is a big spike in homelessness with 970 Sutton families homeless and in bed and breakfast accommodation that night. This statistic was referred to (by me) two days later when Planning Committee met under my chairmanship and approved development plans for the soon to be redundant B and Q store site, which will provide 337 affordable homes where families from the housing register, in desperate circumstances, will be housed – but not before 2028.
October 2023. Since the pandemic started and family visiting became difficult my family (my two brothers, my sister and other family members) have had a family ZOOM meeting on the first Monday of every third month. We held this on 2 October and I found my niece Francis is in the process of moving from Switzerland to Scotland. Council business got underway on the 3rd with Planning Committee. Three very different applications – a new drive-through KFC in Beddington agreed with extra conditions, an unusual house in Carshalton refused, a block of flats in Mulgrave Road agreed. On the 4th and 5th I took part in the traffic survey my local residents' association undertakes periodically to see if traffic in the area is increasing or decreasing. It seems it is increasing. On the 4th. the local committee met and some funding was agreed to restore the notice boards at the Devonshire Avenue Nature Area. On Sunday 8 September I played trumpet for the Allegra Concert Band on the lovely Victorian bandstand at Ruskin Park in Herne Hill. It was a very warm day for October. The programme included arrangements of pieces by Mozart, Bach, Shostakovitch, the Blues Brothers and Stevie Wonder. Plus the music from West Side Story and La La Land. What a pity we do not have a bandstand in Sutton. My eight year old grandson came to listen. He has just started learning the trombone.
On 11 October the police consultative panel met – I have posted a report on this on the main site and the page relating to the local police. On 18 October the three Councillors met officers in the Devonshire Avenue Nature Area to discuss improvements to the signage. On 19 October we attended a "Community Walkabout" at Sutton Court, and then one at Beauclere House, to discuss with residents action needed in relation to the maintenance of the building. On 20 October Trish and I attended a meeting of the Board of Sutton South Hello, now re-named the Hello Club. The organisation is thriving. On 30 October there was a meeting of the Council at which we passed a motion expressing concern at the housing crisis. There was a Conservative motion supposedly on "regeneration" that I did not care for as it was taking unfair pot shots at Council officers, and I was pleased with the reaction to my speech criticising it. It was defeated.
September 2023. Council business is clicking back into gear after the August break. On 6 September we had Planning Committee. I had to leave the committee for one of our discussions as I was not held to be able to approach it with an open mind. We did not complete our agenda, which is something I hate as it means people have been waiting all evening for the final item and it is not reached. On 12 September we had the Housing, Economy and Business Committee, where a major issue was our communications strategy on planning applications. On 14 September I paid my first visit for a long time to the "dump" – the recycling centre in the Kimpton estate. I thought the online system for booking a slot quite smooth. On 17 September I took part in the annual "inspection" of Mitcham Common with the Mayors and/or Deputy Mayors of Croydon, Sutton and Merton. The 18th of September is my birthday. Somehow being 77 seems a lot older than being 76. On 21 September I attended a "walkabout" at Kingslee Court and Thorn Court in Worcester Road organised by Sutton Housing Partnership (SHP). These events are organised to allow residents to raise issues and concerns with the senior management of SHP. The month ended on a high with the Sutton South LibDem team finishing third in the Mayor's quiz on the final Saturday of the month.
August 2023. On 1 August Gloria and I hosted the monthly tea for "retired folk" organised by my local residents' association. Eleven people came. The following day there was the monthly meeting of the Planning Committee. The meeting in July was cancelled due to lack of business. Tonight we had a very full agenda and it was a struggle to get through it. There were two applications relating to the renewal of buildings in local schools. On 6 August we held a family picnic at the memorial bench we have paid for, and which was recently installed, remembering our daughter Jane who died of a brain tumour. This is in Windmill Gardens in Brixton. Jane was a volunteer at the windmill. Here is a photo of my three grandchildren sitting on the memorial bench.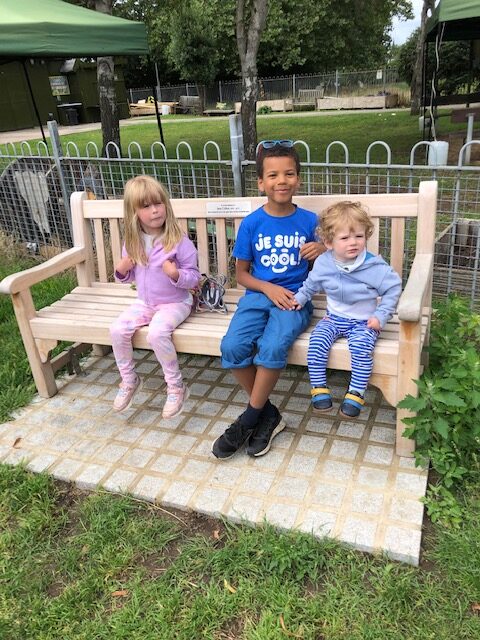 August is usually a quiet month for Council business with no committee meetings, except Planning Committee. I seem however, at the moment, to have a very full agenda of casework including some issues that are difficult and disturbing. The most difficult, now thankfully resolved, involved a young mother, a drug abuser, whose anti-social behaviour was deeply distressing to neighbours and local residents. Some of the situations you have to deal with as a Councillor can leave you distressed yourself, though I take satisfaction from the gratitude expressed by the neighbours when the problem was sorted.
July 2023. Unexpectedly, Planning Committee at the start of the month was cancelled due to lack of business. Instead we had a very good training session. I am worried that a wave of applications to consider is about to hit the committee. On the 7th we held a meeting of the Local Committee where I was able to raise suggestions about improvements to the Devonshire Avenue Nature Area such as introducing wood chip paths. This would require funding, however. On the 19th we held an interesting meeting with the police at the Friends' Meeting House, our quarterly police panel. The crime statistics always give cause for concern but our Ward remains a low crime area by the standards of outer London.
I took a day off from Council business on 12 July when Gloria and I had tickets for Wimbledon. We had seats close to where the players enter and leave the court (number one court). Unfortunately I did not have a ball with me to get Medvedev to sign.
On 15 July I contributed to the artistic life of south London by playing second trumpet with the Phoenix Concert Band when we provided the music at the Chipstead Flower Show. Our performance included the music from the Sound of Music and from Mary Poppins. There was also a medley of the music from Star Trek. Fabulous stuff.
June 2023. The month usually starts with Planning Committee but at the annual Council meeting on 22 May I was appointed to the Housing, Economy and Business Committee. I used to be vice-chair of this committee. It met on 6 June and there was a paper on the restoration of the Beddington Farmlands which caused concern, as this work is behind schedule. Also on 6 June I went to the residents' tea for "retired folk" organised by my local residents' association. These are pleasant affairs. Planning Committee met on 7 June. Two difficult applications, one relating to building on the green belt (we turned it down) and one to the renovation of a building in the High Street in Sutton. This we agreed.
On 9 June (my wife Gloria's birthday) I played the trumpet with the Allegra Concert Band at a concert at a school in Tadworth. The following day I played trumpet at a concert by the Phoenix Concert Band at the Second Saturday Tea organised by the Quakers, at the Friends' Meeting House in Cedar Road. On 13 June Gloria and I travelled to Croatia (to Dubrovnic and later to Zagreb) on a civic visit organised by the London Mayors' Association. These trips are interesting (but self funded and expensive). Aside from the usual tourist visits, we met the Mayor of Dubrovnic and the number two at the British Embassy in Zagreb.
On 30 June I went with Louise and Trish to present our petition opposing ULEZ to the Mayor of London. Getting to City Hall, in Docklands, from Sutton is a complicated journey.
DUE TO SOME WEBSITE CAPACITY PROBLEMS I HAVE CURRENTLY LOST THE EARLIER MONTH BY MONTH RECORD OF MY ACTIVITIES – I THINK IT DOUBTFUL NOW THAT WE CAN FIX THE PROBLEM